Wireless Networking
A wireless network can make using your computer more relaxing by letting you take it anywhere in your house from your couch, your bedroom, or even your backyard. With a wireless network, you don't have to go out of your way to use the Internet, because it's everywhere in your home.
Networking your computers will enable you to:
Share your internet connection throughout the house
Share files between computers
Share one printer between many PCs
Play music and movies stored on one PC on another
Connect your games consoles to the internet and each other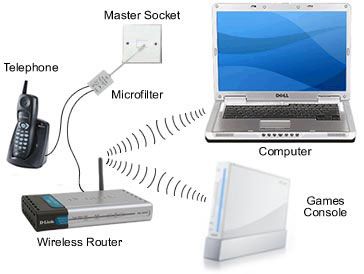 We setup your Wireless Network to keep others from hijacking your home wireless network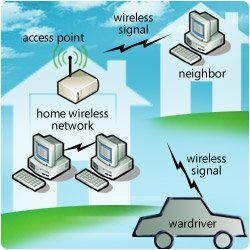 Leaving your wireless network unprotected could be an open door for nosy neighbours or worse mobile malicious attackers searching for wireless networks to break into, a practice known as wardriving.
It's not uncommon for a home user with a wireless-enabled computer to pick up a wireless network signal, often inadvertently, from a next-door neighbour's access point.
What is "wardriving"? This term means to cruise down streets with a wireless computer or other radio-enabled device attempting to locate, identify, and infiltrate wireless networks. A wardriver who accesses your network could anonymously hijack your Internet connection, steal personal information stored on your network, intercept file transfers, or even use your computer as a "zombie" to send out spam or malicious software that could be traced back to you.